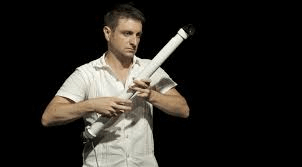 The papier logik project was born at School during a training period in a research laboratory: the goal was to reinvent sensors that could be produced oneself to build electronics, and more especially Digital Music Instruments.
This research led to the exploration of a variety of alternative resources combined with existing electronics. We gather here a collection of the tools and resources we developed for educational purpose using our discoveries.
Electronics Fundamentals
Rediscover the basics of electronics with sustainable resources: we spent many hours of fun with professors and students from secondary school to university so as to propose cost-effective resources solutions along with straightforward courses and entertaining application tutorials.
Build electronic games, toys, cards, bicyle tools and many other easy going application to rememeber how you can become the master of electrons.
Science projects with (or without) Arduino
These pages lead to the next level in electronics using more complex electronic hardware such as development boards. Arduino boards have notably become a reference for DIY projects but also for education, research, and professionals.
You will learn here how to develop a variety of projects of various difficulty levels which can lead you to great achievements and a valuable new skill for your curriculum.
Advanced Research Projects
The Papier Logik project gathers the main collection of resources on electrically functionnal papers and related research and development  fields. This is the work of an international collaboration of higher degree students, teachers and researchers world-wide since 2003.
Join the community of PapierLogik researchers to help us develop more sustainable electronics.
Collaborative projects
The Papier Logik website also gathers the main collection of resources on paper-based electronics and related applications produced by students, teachers, researchers, amateurs and professionnals world-wide since 2011.
Join the PapierLogik community to help us develop more sustainable electronics and learn how to build great custom e-tech and collaborate with other paper-based developpers.
.